FKC series angular contact thin bearings Dimensions Parameters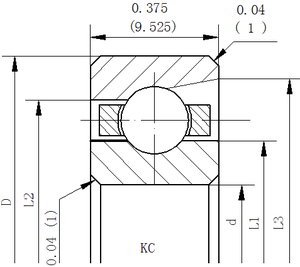 FKC Series

Bearing


Number

Dimensions

Rated load

Weight
(kg)

Equivalent

d

D

H

Cor

Cr

NTN

KAYDON

INA

FKC040AR0

4.000

4.750

0.375

11340

4270

0.200

KYC040

KC040AR0

CSEC040

FKC040AR0

101.600

120.650

9.525

11340

4270

0.200

KYC040

KC040AR0

CSEC040

FKC042AR0

4.250

5.000

0.375

12050

4450

0.209

KYC042

KC042AR0

CSEC042

FKC042AR0

107.900

127.000

9.525

12050

4450

0.209

KYC042

KC042AR0

CSEC042

FKC045AR0

4.500

5.250

0.375

12710

4620

0.222

KYC045

KC045AR0

CSEC045

FKC045AR0

114.300

133.350

9.525

12710

4620

0.222

KYC045

KC045AR0

CSEC045

FKC047AR0

4.750

5.000

0.375

13420

4760

0.231

KYC047

KC047AR0

CSEC047

FKC047AR0

120.650

139.700

9.525

13420

4760

0.231

KYC047

KC047AR0

CSEC047

FKC050AR0

5.000

5.750

0.375

14140

4930

0.245

KYC050

KC050AR0

CSEC050

FKC050AR0

127.000

146.050

9.525

14140

4930

0.245

KYC050

KC050AR0

CSEC050

FKC055AR0

5.500

6.250

0.375

15290

5200

0.263

KYC055

KC055AR0

CSEC055

FKC055AR0

139.700

158.750

9.525

15290

5200

0.263

KYC055

KC055AR0

CSEC055

FKC060AR0

6.000

6.750

0.375

16670

5510

0.290

KYC060

KC060AR0

CSEC060

FKC060AR0

152.400

171.450

9.525

16670

5510

0.290

KYC060

KC060AR0

CSEC060

FKC065AR0

6.500

7.250

0.375

18050

5820

0.308

KYC065

KC065AR0

CSEC065

FKC065AR0

165.100

184.150

9.525

18050

5820

0.308

KYC065

KC065AR0

CSEC065

FKC070AR0

7.000

7.750

0.375

19200

6050

0.336

KYC070

KC070AR0

CSEC070

FKC070AR0

177.800

196.850

9.525

19200

6050

0.336

KYC070

KC070AR0

CSEC070

FKC075AR0

7.500

8.250

0.375

20580

6360

0.354

KYC075

KC075AR0

CSEC075

FKC075AR0

190.500

209.550

9.525

20580

6360

0.354

KYC075

KC075AR0

CSEC075

FKC080AR0

8.000

8.750

0.375

22010

6620

0.381

KYC080

KC080AR0

CSEC080

FKC080AR0

203.200

222.300

9.525

22010

6620

0.381

KYC080

KC080AR0

CSEC080

FKC090AR0

9.000

9.750

0.375

24540

7110

0.445

KYC090

KC090AR0

CSEC090

FKC090AR0

228.600

247.650

9.525

24540

7110

0.445

KYC090

KC090AR0

CSEC090

FKC100AR0

10.000

10.750

0.375

27290

7650

0.472

KYC100

KC100AR0

CSEC100

FKC100AR0

254.000

273.050

9.525

27290

7650

0.472

KYC100

KC100AR0

CSEC100

FKC110AR0

11.000

11.750

0.375

29870

8130

0.517

KYC110

KC110AR0

CSEC110

FKC110AR0

279.400

298.450

9.525

29870

8130

0.517

KYC110

KC110AR0

CSEC110

FKC120AR0

12.000

12.750

0.375

32400

8580

0.558

KYC120

KC120AR0

CSEC120

FKC120AR0

304.800

323.850

9.525

32400

8580

0.558

KYC120

KC120AR0

CSEC120

FKC140AR0

14.000

14.750

0.375

37740

9510

0.649

KYC140

KC140AR0

CSEC140

FKC140AR0

355.600

374.650

9.525

37740

9510

0.649

KYC140

KC140AR0

CSEC140

FKC160AR0

16.000

16.750

0.375

43030

10360

0.739

KYC160

KC160AR0

CSEC160

FKC160AR0

406.400

425.450

9.525

43030

10360

0.739

KYC160

KC160AR0

CSEC160

FKC180AR0

18.000

18.750

0.375

48360

11200

0.830

KYC180

KC180AR0

CSEC180

FKC180AR0

457.200

476.250

9.525

48360

11200

0.830

KYC180

KC180AR0

CSEC180

FKC200AR0

508.000

527.050

9.525

53470

11960

0.921

KYC200

KC200AR0

CSEC200
Remark:

1. Please refer to the FRB technical drawings for detailed technical parameters.
2. If you have other technical requirements, please let us know when you order.
3. If you have any questions or needs, please feel free to contact us and we will reply you as soon as possible.