Four point contact slewing bearings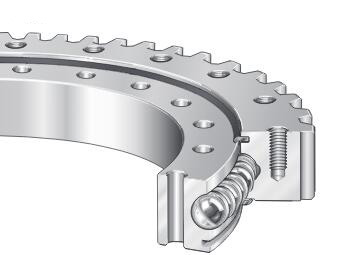 Feature:

–These slewing rings without preload are robust and proven under very demanding operation; they place only slight demands on the flatness and perpendicularity of the adjacent construction.
–They are suitable for applications with low requirements for accuracy and rigidity of the bearing arrangement, for example in simple metalworking machines, wind power equipment and construction machinery.

FSA series
1)standard series 20 and 25, with external gear teeth
2)balls in accordance with DIN 5 401, plastic spacers
3)lubrication nipple on the circumference of the ring without gear teeth
4)FSA 25 with rolling element pitch circle diameter from 755 mm to 1055 mm

FRB Bearings provides users with FSA series slewing ring with external gear.FSA25 series with external teeth, good bearing capacity and easy to install features.At the same time, we can redesign the bearing according to customers' needs. We have rich experience and complete product series, which can fully meet users' needs for standard and non-standard bearings. Welcome new and old customers to order.