RU series cross roller bearings Dimensions parameters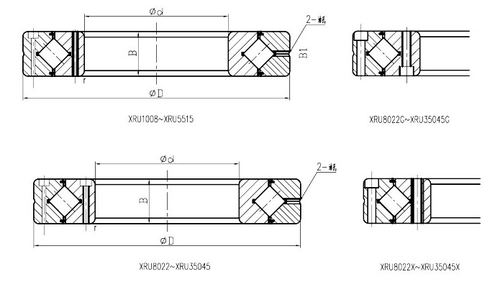 Nominal model

Dimensions

Dimensions of mounting holes

(mm)

Basic rated load (KN)

Weight

(KG)

Equivalent

ID

OD

W

Outer


ring

Inner


ring

d

D

B

PCD1

PCD2

C

Co

THK

CHRU1008

10

52

8

42

16

2.91

2.43

0.12




CHRU2012

20

70

12

57

28

7.35

8.35

0.29

RU42

CHRU2512

25

80

12

67

35

8.61

10.6

0.4




CHRU3515

35

95

15

83

45

17.5

22.3

29.5

RU66

CHRU5515

55

120

15

105

65

20.3

29.5

1

RU85

CHRU8022

80

165

22

148

97

33.1

50.9

2.6

RU124

CHRU8022G

RU124G

CHRU8022X

RU124X

CHRU9025

90

210

25

187

112

49.1

76.8

4.9

RU148

CHRU9025G

RU148G

CHRU9025X

RU148X

CHRU11528

115

240

28

217

139

80.3

135

6.8

RU178

CHRU11528G

RU178G

CHRU11528X

RU178X

CHRU16035

160

295

35

270

184

104

173

11.4

RU228

CHRU16035G

RU228G

CHRU16035X

RU228X

CHRU21040

210

380

40

350

240

156

281

21.3

RU297

CHRU21040G

RU297G

CHRU21040X

RU297X

CHRU35045

350

540

45

505

385

222

473

35.4

RU445

CHRU35045G

RU445G

CHRU35045X

RU445X
Remark:
1.Nominal model with seals is CHRU ***UU.
2. In the high-precision, please use the inner ring rotation way.
3.If there is a need or questions, please contact us, we will reply to you as soon as possible. You can also send mail directly to sales@frbearings.com or call: 86-379-61110682, or directly counseling online customer service.