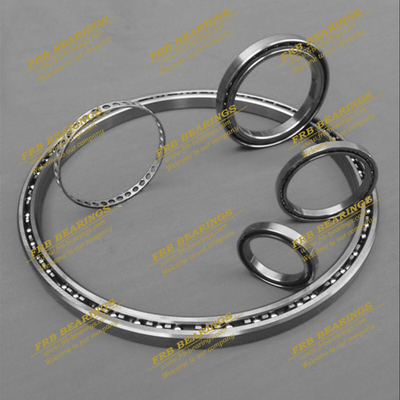 FRB Bearings produce thin wall bearing which can be divided into seven open series and five seal series.

The internal diameter ranges from 1 inch to 40 inches, and the cross-sectional dimensions range from 0.1875 x 0.1875 inches to 1.000 x 1.000 inches.

Open series have three types: radial contact (type C), angular contact (type A) and four-point contact (type X).

Sealed bearings have two types: radial contact (type C) and four-point contact (type X).

Thin-wall bearing has the same structure as angular contact ball, except that the wall thickness is small, the width is narrow and the processing difficulty is large.

Thin-walled ball bearings of equal cross-section are mainly used in aerospace, medical machinery and mechanical equipment and other industries.Due to the characteristics of high precision requirement and great difficulty in machining, the thin-walled ball bearing with constant section is still mainly dependent on imports at present.

FRB BEARINGS developed these bearing at least nine years time, has been well-known enterprises for domestic suppliers, products quality get customer high praise.

Welcome friends to visit our factory.