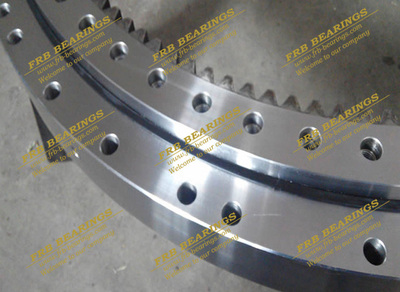 The main factors influencing the slewing bearing service life are structural design, manufacturing process and materials.

First of all, the slewing bearing structure design is reasonable, so that the swing bearing has a good life.slewing bearing is after forging, heat treatment, turning, grinding and assembly, and other processes.The rationality, progressiveness and stability of each machining process also affect the slewing bearing life.

Secondly, the material also affects slewing bearing, but at present, the material of the slewing bearing has been greatly improved, and the influence on the slewing bearing is slowly reduced.

The ‍slewing bearing capacity will also affect its life. Because of the different manufacturing techniques and materials used, the slewing bearing has different bearing capacity. If it is beyond this range during operation, it will cause damage to the slewing bearing, thus affecting the machine service life.Friction is a key factor for all machines and friction wear is the main factor leading to the reduction of the slewing bearing service time.In order to ensure the slewing bearing normal use, when using at ordinary times, we must pay attention to the maintenance of the bearing, regularly smear grease, and do not allow the bearing long-term overload operation.